The Versa Plumb® System
The Jandy Versa Plumb System delivers the highest energy efficiency through its innovative design that maximizes hydraulic integrity. With this system you will use a lower horsepower pump and less plumbing pipe and fittings, all while reducing energy consumption and installation time.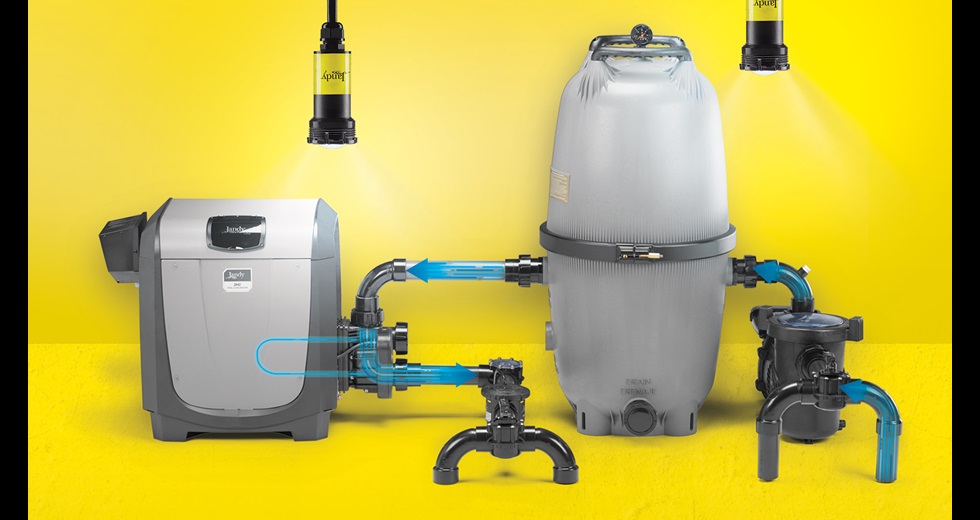 Versa Plumb Benefits
50% More Hydraulic Efficiency*
The Versa Plumb System reduces hydraulic resistance by up to 50% versus other equipment sets in its class.
Uses Less Horsepower
The Versa Plumb System's increased hydraulic efficiency allows for up to a 1/2 HP smaller pump to achieve the same level of flow, resulting in greater energy savings.
40% Faster Installation
Fastest installation due to our pre-assembled plumbing kits, which enable quick and consistent equipment plumbing design to reduce installation costs.
50% Less Plumbing Pipe and Fittings
Innovative system design requires less plumbing pipe and fittings, while increasing hydraulic efficiency.
*Comparison is between Jandy Versa Plumb System using a Jandy Pump, Versa Plumb Filter, LXi™ Heater, AquaPure® Salt System, and NeverLube® Valves with sweep elbows versus competitors' equipment using comparable pump, filter, heater, sanitizer and valves.
Energy-Efficient Pool Products